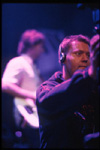 Beats & Big Band

SPOT 08 has been too modest! So far, our programme has announced The Orchestra to play Saturday night at 23:00 in Store Sal. This could have been quite interesting, but actually Beats & Big Band will be the ones to give concert at this time. The name "Beats & Big Band" covers a full-staff The Orchestra AND the two programmers/beatmasters Anders Trentemøller and Brilliant Corner (aka Lars Vissing).
Musically we can expect a totally new fusion/co-operation of contemporary modern bigband music combined with club oriented dance beats.
A powerful and dynamic jazzy expression painting light, transparent electronic and acoustic landscapes of sound.

You might call it a fusion of physical and danceable foundation of hip beats combined with the creative energy from some of the best Danish jazz musicians. The reviewers have already praised them to the skies…

For more info about Beats & Big Band please view the band section.