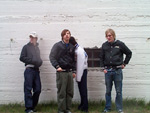 Fidel - klar til Århus.

Danish The Circus had to cancel the arrangement Saturday at SPOT 08, but this has cleared the road for a new Icelandic act at the SPOT Festival – the rock band Fidel.

Fidel was founded two years ago by four members in their early twenties. The debut album "Good Riddance=New Entrance" has given the national reviewers occasion to call it "the best Icelandic rock album for a very long time" and "a must-buy for any rock fan".
After some support jobs for international names in their own country, Fidel is now launched outside the Icelandic borders – not only in Denmark at SPOT 08, but this July also in Switzerland.