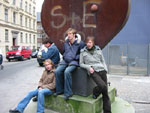 Saybia fra "The Day After
Tomorrow"-videoen.

Saybia – without question the hottest new name of Danish rock music - will perform at the eighth SPOT Festival arranged by ROSA (The Danish Rock Council) and VoxHall. The Spot 08 Festival takes place at The Concert Hall Aarhus 10-11 May 2002.

Saybias debut album has sold extremely well and the sales figures have ranged the band to be the first Danish debut band ever to break to the very top of the Danish charts.
This first place position Saybia has been able to hold all through the following four weeks.


Saybia is a successful new band coming on fast and is highly in demand. Not only are their concerts fully sold out - on MTV the viewers can see their video "The Day After Tomorrow" and vote for it on the program MTV Up North.