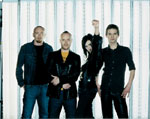 Briskeby from Norway
- going to SPOT 08.

The SPOT 08 Festival goes even more Nordic than the previous years. Among the artists at the festival will be sky boosting Norwegian Briskeby, who had a hit with the album "Jeans For Onassis" in Norway as well as internationally.

The aim of the booking team at SPOT 08 is to get even more hot Nordic names and so far they have booked El Caco and Salvatore, fellow countrymen of Briskeby, and Finnish SubUrban Tribe. Sweden is represented by The Mopeds and Ida Kristin and
from The Faroe Islands we can look forward to seeing Teitur.

All these bands have had their very resent break-through and who knows, they might be on everybody's lips by next year.

Other upcoming artists are the Danish bands in the programme, where we can proudly present Blue Foundation, Puddu Varano,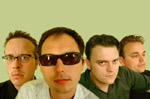 Danish act Thau - going
to SPOT 08.

Aida Nadeem, Thau, Under Byen, Portland, The Circus, Wynona, The Broken Beats, Barcode, Jerkstore, The Defectors, U$O/L.O.C., Universal Funk, The Girl On Death Row (feat. Sune Wagner, ex Psyched Up Janis), Carpark North, Mikael Simpson (ex Luksus), Zar, Marcus Winther-John (ex Inside The Whale), Polkageist, and The Orchestra.

These already published names make up about half the programme and it indicates a
wide-ranging spectre of genres. As the final programme is published this notion will be further confirmed.

Another aspect of the SPOT 08 Festival is to throw light on new trends and development in the musical world through panel debates, lectures and so on. The activities will include both national and international participants from the music trade.

This site will be updated continiously with more news.