All tickets to SPOT 08 are sold out – both one-day tickets and partout tickets.
---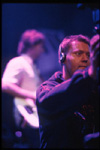 Beats & Big Band
SPOT 08 has been too modest! So far, our programme has announced The Orchestra to play Saturday night at 23:00 in Store Sal. This could have been quite interesting, but actually Beats & Big Band will be the ones to give concert at this time. The name "Beats & Big Band" covers a full-staff The Orchestra AND the two programmers/beatmasters Anders Trentemøller and Brilliant Corner (aka Lars Vissing).
---
The last of a series of seminars in the SPOT 08 programme is now settled: "How to get a foot inside" – Friday 18:30 – Lille Sal. At this seminar it will be discussed how to overcome the obstacles of making yourself a carreer in the American or the English music industry.